Pipe Band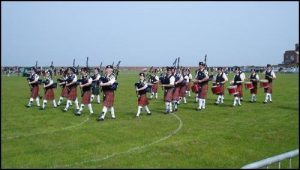 The Band was formed in 1922. not long after the 1921 Miners' Strike, by Pipe Major Robert Johnstone. better known as Bob. He was assisted by Pipe Sergeant Hugh Muir and Leading Drummer Davie Young, Sr. The Committee comprised the President Walter Muir my father; Treasurer David Donaldson and Secretary Bob Shepherd.
The Band had to be taught from scratch and the practice hall was situated opposite Lorimer Place in Cockenzie. In later years we had a hut in the grounds of Mary Murray's, then we used the Infant School for a while and latterly, Prestongrange Bowling Club. In the beginning, money was needed for instruments and this was subscribed by the miners at the rate of two old pennies (lp) a week from their pay and the uniforms with kilts in the Royal Stewart tartan were purchased at a later date.
The Band consisted of eleven pipers and seven Drummers. I joined in 1937 and my brother, Hugh. taught me to play the pipes. My brother, John had been a member long before me and much later, my nephews, Robert and Walter, both played.
WWII found me at Ingliston, then an Army training camp and I had taken my pipes with me for my own amusement. However an officer heard me and enrolled me in the regimental band of K.O.S.B. 7th Battalion and we saw service in France, Arnhem and later in Norway. Members of the band were stretcher-bearers when required.
In peace time, things slowly got back to normal. The Band came together again and played at all the Gala Days held in and around Prestonpans, the Miners Gala in Holyrood Park and also in the Fisherman's Walk at the Box Meeting in Port Seton. The fee for the band on these occasions was never very much but the men usually got a good tea. After one particular Gala we saw the Committee served with boiled ham, salad and cakes etc, and then there was a jar of jam and a plate of bread put on the table for us. It was pointed out to the catering lady that our younger members were all growing lads and needed something more substantial than a jam sandwich after playing so long. On hearing that, a few tins of meat appeared and were opened and added to the table – and it was much appreciated!
Over the years there were changes in the Band. After Davie Young, Sr. retired, leading Drummer Tommy Blair took charge of the Drummers and he trained up a lot of youngsters. Pipe Major Robert Johnstone passed away after a record 40 years service with the Band.
With the closure of Prestonlinks Colliery, Monktonhall Colliery took responsibility for the Band and Hugh Muir was appointed Pipe Major until he retired in 1969. Pipe Major Willie McBryde then took over in 1970 when it went from strength to strength in the competitions under his leadership. We were invited to Toronto. Canada in 1976, to Conflens Folklore in 1977 and to L'Orient Celtic Festival in Brittany in 1978 and had a tremendous reception at all the venues. After this the Band was upgraded to Grade 2 and won the World Championship held at Nottingham in 1979 – a great achievement!
Another "first" for the band was the making of a cassette of all kinds of pipe band music, and its sales had moderate success in national and international terms. Our public performances started to be a little more high key. We still enjoyed playing at the local events but now also played at Galas further afield, at football Internationals at Hampden and in the Cavalcade Parade which opens the Edinburgh International Festival every year.
But it wasn't always work as we used to have an annual outing and one year we arrived in Callander to find the local Pipe Band playing for the tourists. We got talking, soon persuaded them to let us try their instruments and, of course, ended up giving a display of our talents. It must have looked a bit odd to the foreigners as we were all in casual wear, not a uniform between us!
After Tommy Blair retired Leading Drummer Alex Dudgeon took over but is now Leading Drummer with Drambuie Pipe Band. When Monktonhall Colliery closed, Prestonpans Royal British Legion became sponsors for the Band. When Pipe Major McBryde retired, his son, Donald, took over and he eventually became Pipe Major of Lothians Pipe Band. Now the Royal British Legion Pipe Band is under the leadership of Pipe Major A Graham.
For my own part, I always loved playing in the Band and at Burns Suppers and St Andrew's Nights but I also had the privilege of playing at a sendee in St Nicholas Cathedral, Newcastle, when Tyne Tees television contacted me to play in a programme being made about the WWII Norwegian connection. It was a great honour and a wonderful experience.
Everyone loves a Pipe Band but they don't always realise the practice and work that goes on before the Band appears in public. And that's the one thing that the present day Pipers and Drummers have in common with those of the 1922 Band – the dedication to make it a success.
I wish the Band 'All the Best' for the future!